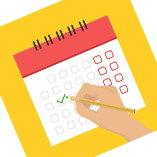 I am now also offering a limited time appointment system.
As well as now being able to just walk in to be served, optional appointments are also available during our normal opening hours. However, our Saturdays are extremely busy, and

for children

the ONLY guaranteed way of being served is by appointment.
The shop is open for both walk-ins AND appointments as follows:
• Mon: 9.30am - 2.30 pm
• Wed: 9.30am - 2.30 pm
• Fri: 9.30am - 2.30 pm
• Sat: 9.30am - 2.30 pm
If we are full or you prefer to shop online, I continue to offer my V.A. & EasyBuy

services. But if you would like an appointment, please email me at

fitcentral@gmail.com

and give me the following information:
Number of children
What type of footwear
Preferred time
There are several conditions to adhere to and, by booking an appointment, you should agree to the following:
Please arrive at the specified time to avoid any delays for other customers

You MUST wear a mask and this also applies to children over 12

Please use the sanitiser gel at entrance

Please bring your own socks if necessary

We stock paper carrier bags but we would ask you to bring your own bag to avoid having to pay for one
Copyright Fit Footwear Central