Why should my baby wear shoes, and why is it

important to have them correctly fitted?
o Baby shoes will provide protection, warmth and encouragement to start walking.
o Not having correct fitting early on can damage their feet, which can affect them for the rest of their lives.
o We correctly fit shoes to take into account length, width, shape and depth of the feet.
o We correctly fit shoes to allow room for growth.
o We will ensure they aren't too narrow or too wide.
o We will only choose shoes which suit the shape of their feet e.g. a square foot should never be put into a tapered shoe.
o We will make sure that the shoes don't dig on the top of the foot.
When should I have my baby's feet properly measured for shoes?
The simple answer is when you think they are ready!
You buy a first shoe for several reasons:
o They are making a serious attempt to stand or attempt to walk.
o You want to put them on the ground and need some protection for their feet.
o They need shoes for nursery.
Once you have been advised and chosen a suitable shoe, you will be given a shoe check card to come back in 10 weeks so that we can see their progress.
PEDIPED GRIP 'N GO is our brand of choice – award winning from the USA
o Featuring special G2 Technology™, which includes a soft rubber sole, rounded edges that mimic the shape of a child's foot, heel stability, and a soft toe box to allow toes to grip the floor.
o Provides active toddlers with the ideal combination of protection and flexibility as they improve their walking ability.
o Pediped has been officially recognized by the American Podiatric Medical Association (APMA) as being beneficial for children's growing feet. In fact, they were among the first footwear for children to be awarded the American Podiatric Medical Association Seal of Acceptance for promoting healthy foot development.
o All styles feature arch supports and have either cotton or leather insoles.
o Some are machine washable
Important Note:
Accurately measuring and fitting babies' shoes requires knowledge and experience. It also requires a little more time than normal, and for that reason we suggest (if possible) to try to avoid the busier times in our shop. That generally means keeping away from the after-school hours of approx 3 – 5pm (weekdays) and also Saturdays. These times can be quite noisy, which may be unsettling for your baby.
Looking for a gift for a new baby? Our beautifully packaged Baby's 1st Shoes voucher is the perfect solution. These shoes will be needed around the 10 month stage, but there is NO expiry date. Comes complete in a FREE presentation box and covers one pair of correctly fitted Baby's 1st Shoes (pre-walkers). Buy online to collect from the shop (£33) or have it posted to you (£34).
Baby's 1st Shoes Voucher (collect in shop)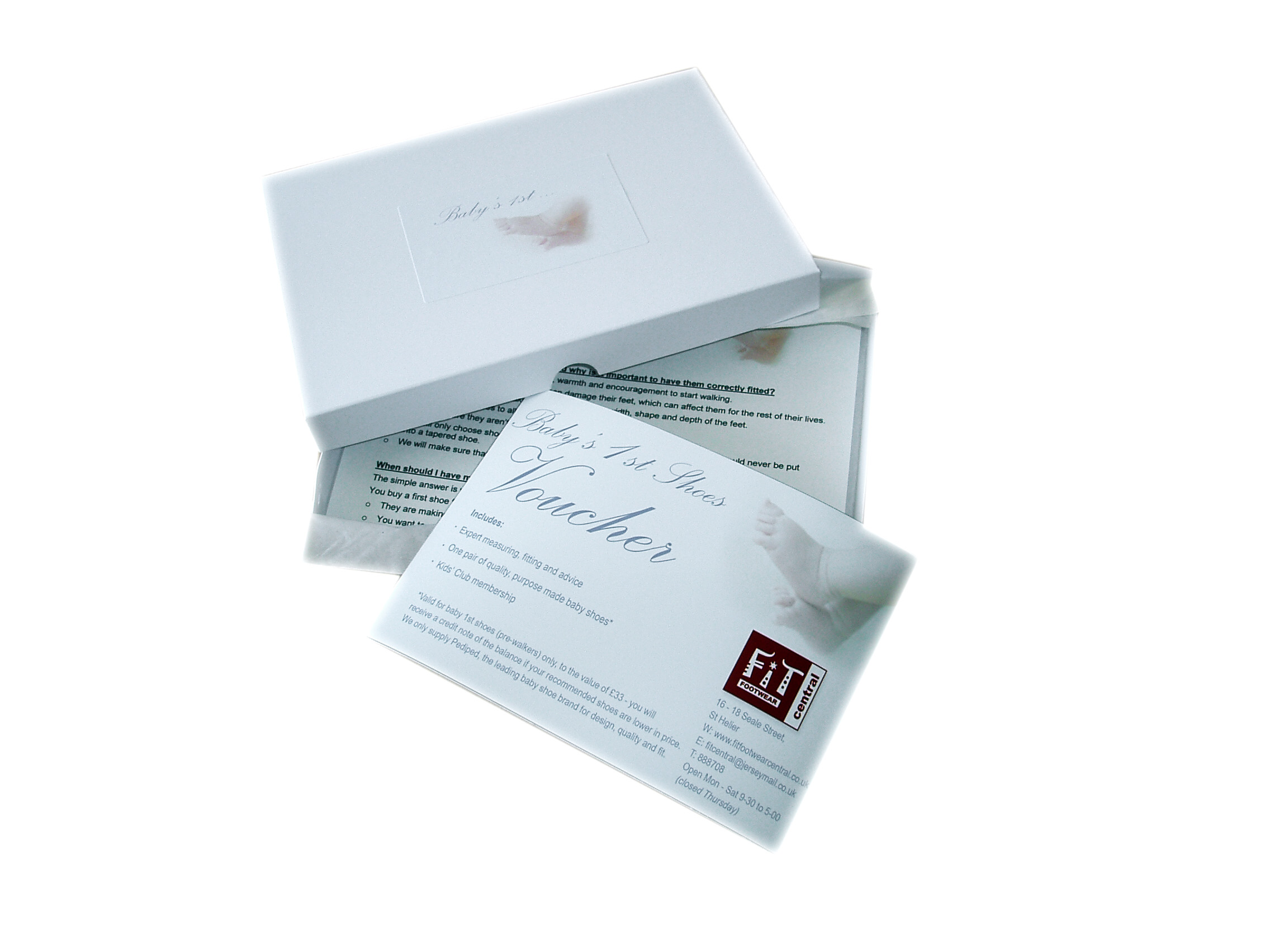 £ 33
Baby's 1st Shoes Voucher (posted)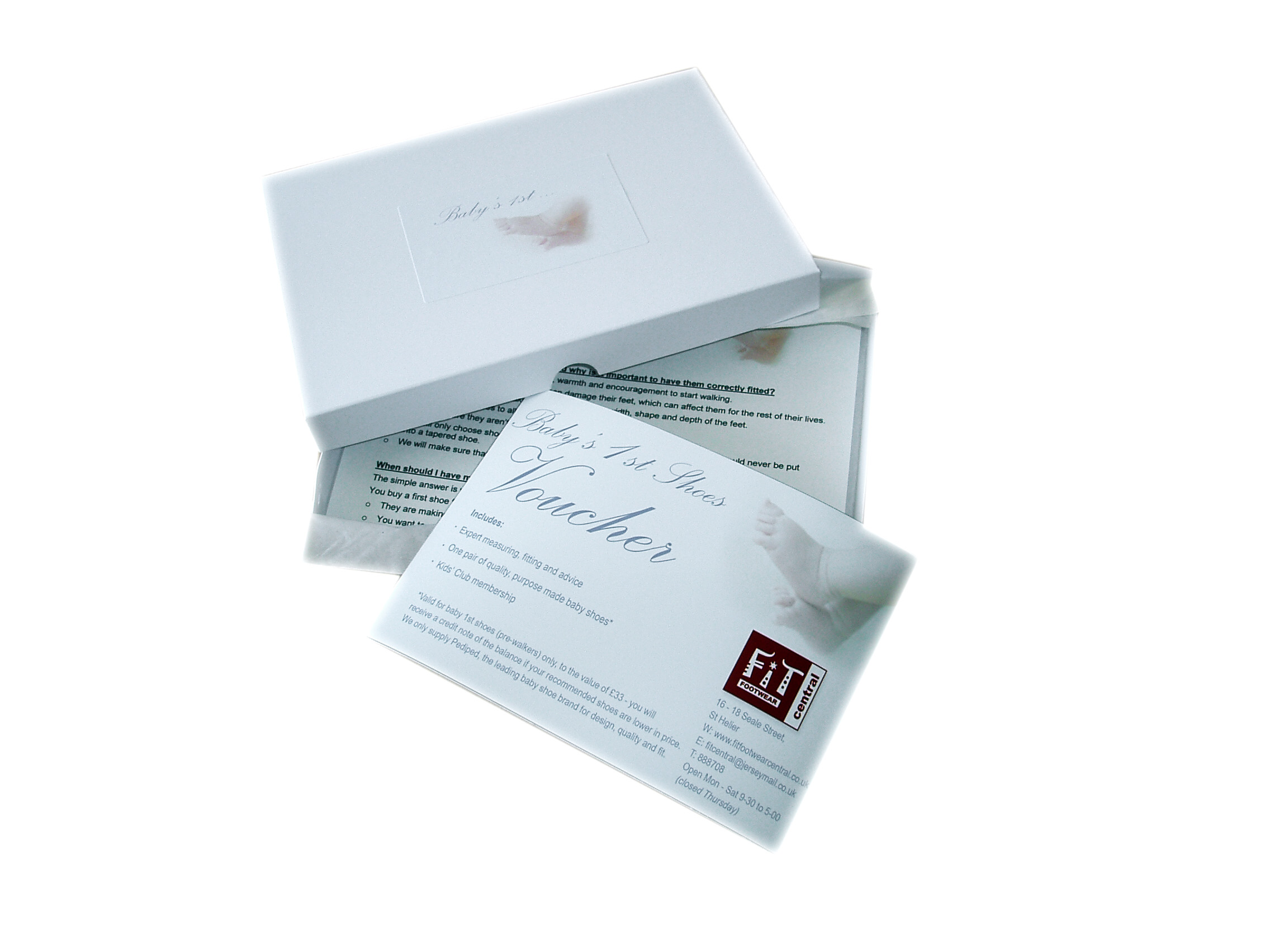 £ 34
(Please confirm your postal address in the "Notes to seller" box on checkout).